<!start content for page>

---
A simple search on any search engine will reveal a guy who has spent a life long career making Hits, performing world-wide, helping many charities and helping members of his 'Serious Writers Guild' repeat his own success.
Born in Dublin, Ireland his band The Bachelors were the first Irish band to ever have a Number One...now followed by U2, Boyzone, Westlife. His famous answer to Louis Walshe when they had dinner together in a Chinese restaurant after recording a St Patrick's Day show for Yorkshire TV is now the stuff of legends:
Louis: "Dec, what would you think of the chances for a band modelled on your band The Bachelors, clean cut, beautifully dressed, the sort you would bring home to your mother. singing mainly covers in a 'today' way?"
Dec: "Go for it Louis....it is a brilliant idea, Dennis Ingleby did exactly the same thing, modelling Eternal on Bananarama....it has to work!"
For a more accurate 'life story' go to www.thebachelors.co.uk/biography.htm
It is interesting to compare the track record of The Beatles and The Bachelors. Differing styles but equally popular to the UK public in the 60's.
Bachelors outsold the Beatles in '64 and '65. Had ten in the Top ten to the Beatles five and were present in the chart for 77 weeks against The Beatles 55.
"So how come they ended up with all the fame?" asks Dec.
"But then two are no longer with us....so maybe we are lucky!"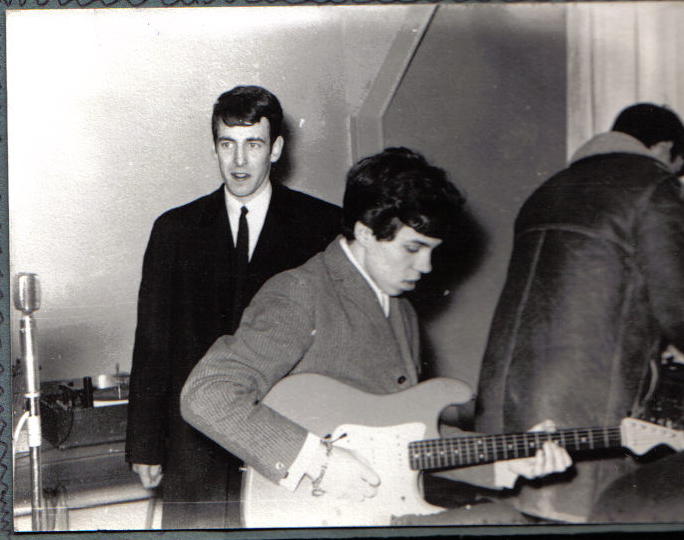 Early pics, show Dec encouraging other young musicians.
One of the first UK bands to appear on The Ed Sullivan Show in the USA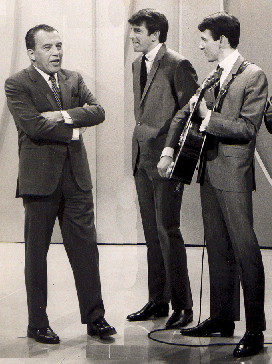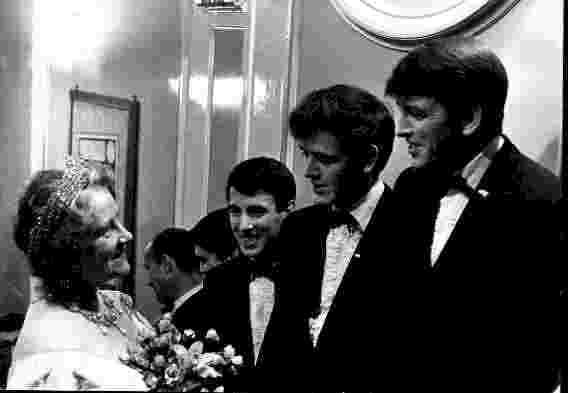 Right from the start involved in charitable causes..Here at The Royal Variety Show
Again, below, right from the start involved in writing and producing. Here using a theatre dressing room as a makeshift studio for a live recording.

Getting The Pope out of trouble was Dec's famous moment...when the sound system failed in front of 250,000 it was Dec who saved the day. His band's singing of 'I Believe' as the Pope descended in his white helicopter was an incredible moment.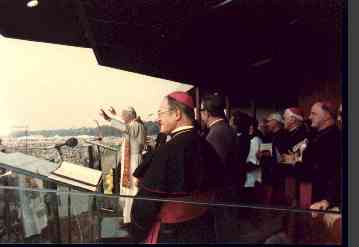 Charitable causes take up Dec's time, here helping Queen Elizabeth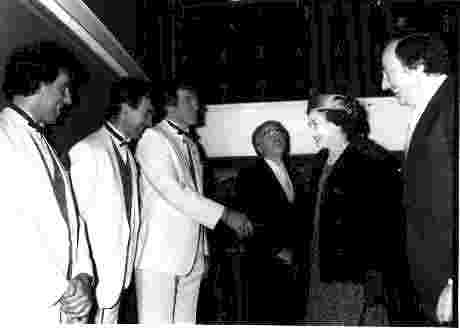 Sound checking at Millwall Football Stadium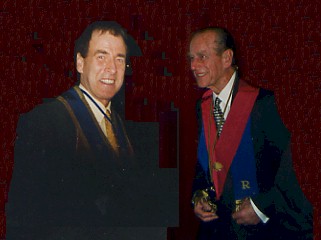 A fellow Water Rat, Prince Philip regularly dines with Dec.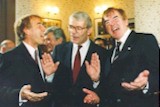 Jamming with the then Prime Minister of the UK, John Major?
Yet another album, the 61st.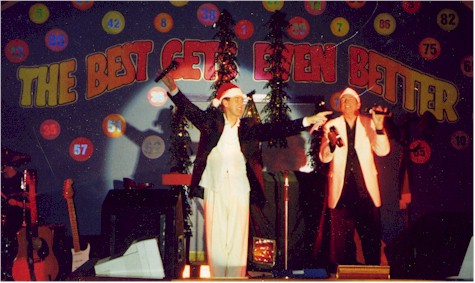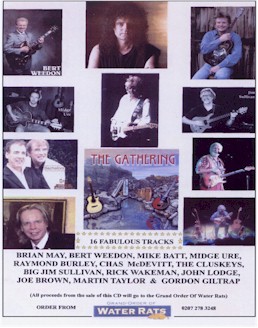 With Brian May, Rick Wakeman, Midge Ure, John Lodge [Moody Blues], Gordon Giltrap, Mike Batt for a special benefit album.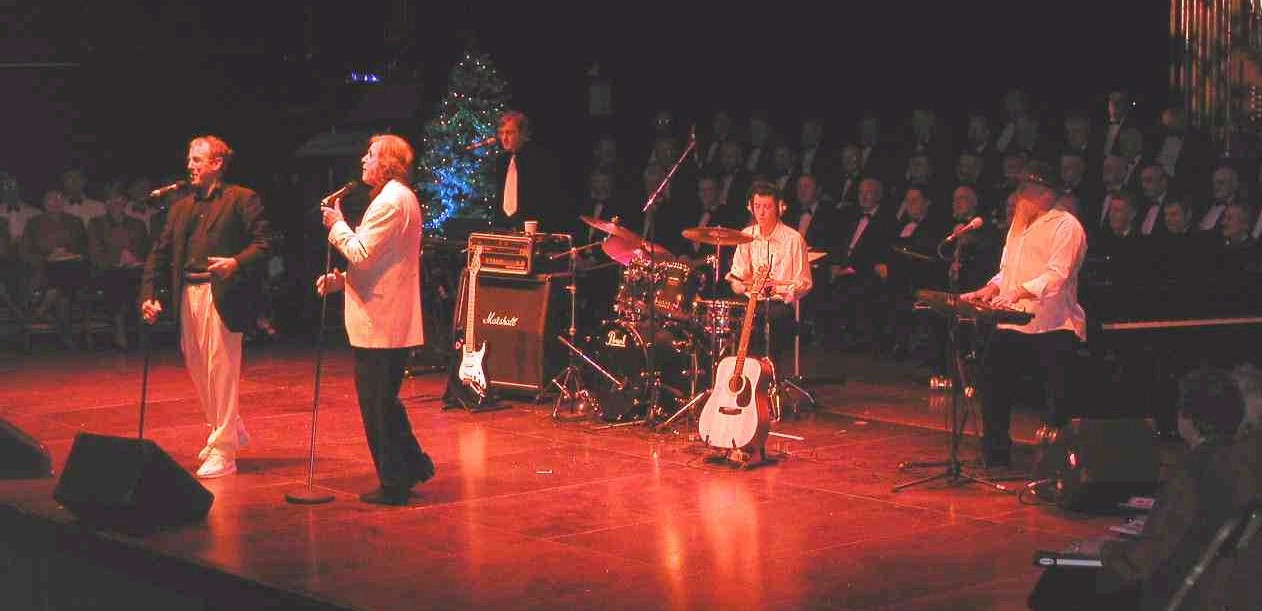 The Christmas concert 2003 with the 200 voices
of the Treorchy Male Voice Choir - Royal Festival Hall, London
The 3,000 seat Opera House 2004 for a Season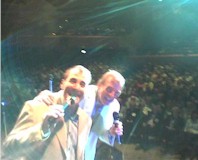 A phone camera shot of 4,500 at St David's Hall, Cardiff....2004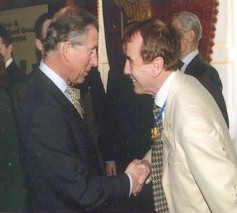 Prince Charles invited Dec for tea at his private apartment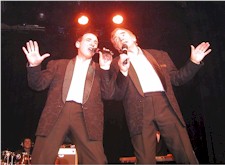 2005 ... swingin' is the latest trend?
So now you know who founded and personally oversees 'The Serious Writer's Guild. Do you think you could learn from such experience?
Dec Cluskey, started his career with his UK based band: 'The Bachelors'. One of the tiny few to have two records in the TOP FIVE at the same time. He has made £Millions from music writing, performing, recording and production - would you let him show you how?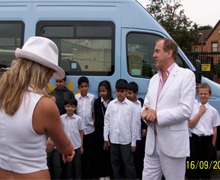 Presenting a Sunshine Coach
Dec's advice? Always hang your hat on a great charitable cause.
Here he presents a Variety club Sunshine coach to underprivileged kids.
Onwards to 2008/2009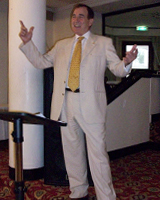 Dec in full flow.
Awarded ACS award and DL award by Toastmaster's International
Top awards in Public Speaking ... you should join Toastmasters:
http://www.toastmasters.org/ Find a location near you?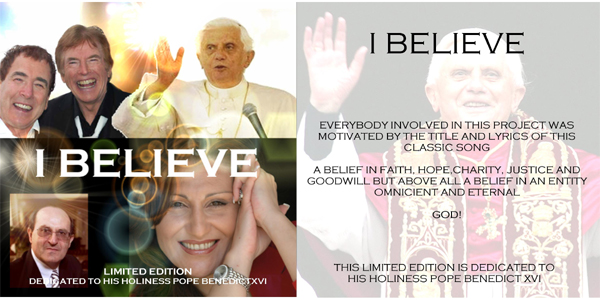 What an honour?
Our record presented to Pope Benedict XVI [what an honour]
Our good friend in Italy and International lawyer of enormous reputation Giovanni Di Stefano [Google him ... you will not believe what he gets up to] asked if he could present 'I Believe' ... one of our band's hits to Pope Benedict XV1.... This was a 2008 version which we are really proud of .... We honestly thought, with Giovanni's clout, he was meeting him in a local pub. [don't laugh]
King Rat!

As a mark of his standing in British show-business Dec has been honoured by being chosen as a King Rat and Trustee of the World's foremost and most prestigious and exclusive show-business charity, The Grand Order of Water Rats. Members include well known and much loved entertainers - to name only a very few: Brian May, Rick Wakeman, Mike Batt, John Lodge and Michael Crawford. Bruce Forsyth, Jimmy Tarbuck, Frank Carson, Barry Cryer, Roy Hudd, the incredible Amplifier man Jim Marshall, Joe Pasquale. The Order includes Companion Rats like:- their Royal Highnesses Prince Charles, Prince Philip and Prince Michael of Kent.

Laurel and Hardy were proud to be Rats, Bob Hope, Charlie Chaplin, Tommy Cooper...legends like Maurice Chevalier, Matt Monro, Danny Kaye.....Wow!

| | |
| --- | --- |
| Dec only plays with the best! - Here he is with Brian May of 'Queen'. | |
Find out where to send your Demo with The Bandit A&R Newsletter

Click newsletter
to sample current issue


GET Bandit's latest, hottest opportunities NOW!
SUBSCRIBE MONTHLY!
First 2 issues FREE!!
Copyright ©2002-2009 MakeHits.com, Dec Cluskey. All rights reserved.