"You have a hot guitar based track but you just can't get the sound right ... been there?
I have! And it is totally embarrassing.
You have a hot, hot , hot idea for a guitar riff to use in a Hip Hop track .... but you can't get the sound you want?
Again, I have been there ... and it drives you bonkers.
You have been asked to record a local rock band who are definitely going places ... packing venues right through your county ... the magic day arrives when they come to the studio .... but the GUITAR sound will just not come together?
Okay, I've been there too ...."
But now I know all the techniques, tricks, methods ...
And I want YOU to have them.
They are in:
"So You're Thinking of Recording Guitar"
the latest manual by Dec Cluskey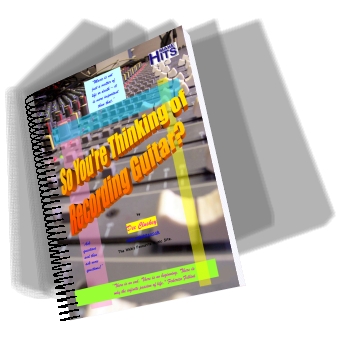 After a career of guitar playing, guitar recording, mixing with the best players, the best producers and engineers, then researching and quizzing as many top guys in the business as I could, I have put together the definitive guide to recording guitar for YOU.
And yes, your $60 guitar can sound like a $600 guitar or even a $6,000 guitar [Martin Signature?]. I can show you.
Acoustic guitar is hard enough ... that alive, zingy, jumping out of the speakers sound?
Flamenco and classical guitar is even harder to capture. Dobro? Slide Guitar?
But Electric? Whew!
Those montrous, Avril Levigne Pop rock guitars? Killers? Justin Hawkins? Greenday?
Then the all time huge sounds of Brian May, Joe Satriani, Slash? How about Eddie Van Halen, the tapping of Stanley Jordan.

I will show you:
1) The biggest, rawest, gut wrenching guitar sound you have ever heard [4 different ways of doing it, to suit the occasion]
2) The smoothest, most luscious jazz guitar sound
3) How to achieve the biggest sounds - even when live
4) How to achieve an orgasmic solo sound on acoustic guitar and classical
5) How to get that 'unusual' Hit solo sound using vintage guitars
6) How to make your recorded guitar 'sit' right
7) The one secret that ALL novice [and most pro] engineers miss
8) The best and most convenient way to have the same sound, no matter where you travel in the world
And YES! How to make that $60 guitar sound like it's $6,000 brother.
Why is this manual so important?

As a Guitar Player?
Even if you have no intention of recording yourself playing guitar, doesn't it make sense to know how to make your guitar sound like it should when you are recorded in any studio? And trust me, even the biggest studios can make your guitar sound like it was found in a Christmas cracker.
The client who booked you expects the best, but the d*ck head of an engineer just hasn't a clue about recording Rock GUITAR. Who will be blamed? But - with the knowledge in 'So You're thinking of Recording Guitar' you can actually quietly direct him how to do it... so everyone comes out smelling of roses ... and the studio book you for ALL their future Rock guitar sessions?
I booked Livingston Studios [one of the best and most expensive in the UK] for a week's recording. The engineer they provided could not record a tin whistle, let alone the top London musos I had booked.
Without the knowledge, that I had accumulated through my career, the week would have been a disaster.
Which were the instruments that needed the most knowledge?
The snare as always [one of the last times I used a live snare rather than a sample]
The guitars .... acoustic and electric.
Yes, I saved the day by almost shoving the engineer out of the way and taking over myself .... but then, I thought, "I am paying for a great engineer .. so why should I do it myself?" I demanded that the boss take over ... and he did.
But without the knowledge of guitar recording, I would not have known what had to be done....get it?
So, it is so important for YOU to know every trick in the book to get that sound .... which in turn will get you fame ... which in turn will make you a pile of dosh.

As an 'Open Mic.' GUITAR player?
We've all heard some awful acoustic guitar sounds at the dreaded Open Mic. nights.
I say 'dreaded' because there is usually the minimum of equipment, perhaps one vocal mic. ... possibly a second mic. for your acoustic guitar or maybe a D.I. [Direct Injection box to feed the guitar to the sound desk].
Doesn't it make a heap of sense to understand the why's and wherefore's of getting a great guitar sound, even in those conditions .... yes, all the tricks work, no matter where you play.

As a studio producer?
Knowing how to produce guitars is probably the highest sought after talent there is after producing vocal arrangements.
You see, there is nowhere to learn except in the school of hard knocks. But if you c*ck up a major session, you will never get asked back. Word travels fast in our business.
Get a reputation for ruining a session and you will never work again, but get a reputation for producing the best guitar sounds in the business and it is a license to print money. Ask Mitchell Froom, Keith Olsen, Nile Rodgers

As a home studio producer?
Success in a home studio environment depends on YOU making commercial potential Hit records. Would YOU like to know how the great commercial GUITAR sounds are arrived at? You could spend years doing it wrong, being totally frustrated and blaming everything and everyone, except the fact that you simply don't know how it is done.
Now YOU can have ALL the secrets ... Hey, you can even have my personal phone number at my studio desk, so you can call me if you have a tricky situation.
You know how much a potential hit record can pull in? Isn't it worth it to spend a little dosh to learn how to get the great gob smacking sounds?

As a studio engineer?
Again, you could engineer session after session, getting a passable guitar sound, nothing out of the ordinary and earn pennies a week. Possibly working under producers who haven't a clue [most haven't, by the way! Except the top guys]
But picture yourself as the genius engineer that everyone seeks out because of the 'GUITAR sound from Heaven' you get?
Now, how much can YOU demand?

As a Touring Sound Engineer?
On the road with Oasis, or Greenday, Snow Patrol? Where the guitars have to be 'right' ... how much is his salary? How many Ferraris could he buy after the World Tour?
Guitar bands are made or broken by the guitar sound created by the live engineer. Brian May [Queen] tours his own guy specially to get his unique guitar sound. He told me: "Dec, I couldn't live without him ... he's my right arm".
A little aside:
I saw 'Il Divo' recently at Wembley Stadium .... had a chat with the sound guy [who was all the way from Australia and was booked for the World tour] ... but what a tiny elec. guitar sound? Great vocals, great orchestra, nice D.I'd acoustic guitar ... but the electric?
"What if someone discovered the secrets of a gut wrenching hit record guitar sound, told you them so you know that you have a dead cert. hit recording?"
Well, that is exactly what I have done ... researched, investigated, tested, probed and studied every aspect of what makes a Hit GUITAR sound! In every style.
In a matter of days, reading this awe inspiring manual and then using the techniques, tricks and methods. Understanding it all and perhaps acquiring the small amount of specialist equipment [you can borrow the stuff from pals usually] you can produce GUITAR sounds that will blow you away.
Perhaps you've struggled with a limited knowledge of making great guitar sounds, having to accept the results of your efforts and not be exactly ecstatic about them?

Because of this limitation, you sometimes produce toons that are not exactly the Hit Material you think they should be?

You've tried your best to copy the Hendrix stuff ... or perhaps the George Benson or John McLoughlin sounds but they all sound too much like the 'current' YOU sound?

You have persisted and injured your pride, your self esteem, your excitement...you have gotten almost despondent.....

You've visited a local 'open mic.' night and been amazed at how bad the guitar sounds were and 'dangerously' thought "my sound is better than that"... but is it the BEST?

And now you may be dissatisfied with your chosen career [music] and think you may as well be a bus driver [do they really get the money that the job is advertised at?]
Through my lengthy career and lengthy research, I found that the way top GUITAR is recorded is technical and cannot be stumbled on. You see, I was lucky, I have played with, and still do play with the best players, worked with the best studio and live engineers [our engineer at Decca was also Jimi Henrix's engineer] worked with the best producers, both studio and live. So, forgive me for saying this, I am always streets ahead in my commercial thinking.
"It knocked me out! Dec, you are the real deal.
I love the way you've thought through all of this.
What a privilege it is to be learning from you."
Stillman Thomas [writer … for Microsoft, Hewlett Packard and Sun Microsystems]
more testimonials
I predict that my 'So You're Thinking of Recording Guitar' will become the "secret weapon" used by the future guitar based hit makers.
But not everyone can afford the price it will eventually go on sale for. So to you, my chosen friend, I am making a silly price ... what could it be?
I won't beat around the bush with silly sales pitch pricing ... let's say an honest £37.77.
And that includes complete access to me by private phone, Email, Fax, Letter and even Skype and Festoon.
Download price will be £27.77
"So You're Thinking of Recording Guitar?"®
What is it?
The 100 + jam packed pages manual explains in great detail the unique professional methods for recording all the top styles of guitar, even down to the silly dobro and slide guitars.
The techniques for recording top, 'blood dripping from the ears' overload guitar will not be found anywhere outside the phenomenally priced mega studios of the world.
This amazing package can be with you as quick as a blink - of course, the extra, extra bonus is that you get total access to me by my private phone on my studio desk or by Email, fax or by Skype [Internet free phone] and by Festoon [Internet Video free phone].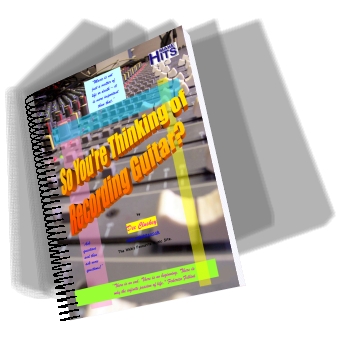 It's the complete Guitar Recording manual, step-by-step.
Right now, you'll pay only £37.77 ... approx $73.97 in USA dollars... or EU55.57 in Euros
Check price in your currency?
THE BONUS!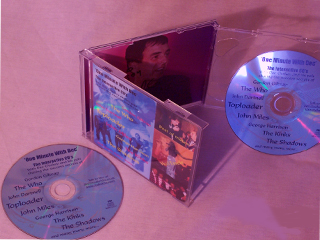 "One Minute With Dec - The Audio Double CD"
Hear Dec talk with some of the biggest money makers and music makers in the Music World ... how the real money is made ... absolutely free with 'So Your Thinking Of Recording Guitar'.
Click here to order now! See below for

OR CALL +44 (0)1323.728005 [UK 01323.728005]
for fast Credit Card Hotline
UK office hours .... check time?
Not Sure? Want to see a sample chapter?
Click on
"Hi Dec , some good news regarding my girlfriend Erin's songs, 3 are being used on a new American TV show. Anyway thanks again for your invaluable support, knowing your there makes this leap into the publishing world feel a lot safer" ... Roger O'Donnell [The Cure]
more testimonials
You can't lose with my total lifetime guarantee - money returned promptly and courteously - no questions asked.
I'll give you a lifetime to try this amazing package.
If it doesn't give you the increase in your percentage chance of success that you want, send it back and I'll refund your full purchase, NO QUESTIONS ASKED!
Remember! You'll get all the benefits, and I'll take all the risk.
Don't decide based on just reading about it. Get the "So You're Thinking of Recording Guitar" package now, use it and see what everyone's talking about. If it doesn't give you the results you want...Send it back for a full, no questions asked refund.
Ways to Buy Online


You do not need to be a Paypal member to use their Credit Card Service!

OR CALL +44 (0)1323.728005 [UK 01323.728005]
for fast Credit Card Hotline
UK office hours .... check time?
Cheques, P/Os, Western Union etc. and Money Orders payable to:
The Serious Writers Guild at:
Stanton Prior, Darley Road, Meads, Eastbourne, BN20 7UH, In the UK.